WooCommerce Variation Swatches & Product Gallery
Customize Your Product Page
Convert Default WooCommerce Product Page into Beautiful & Interactive Pages with IWPS.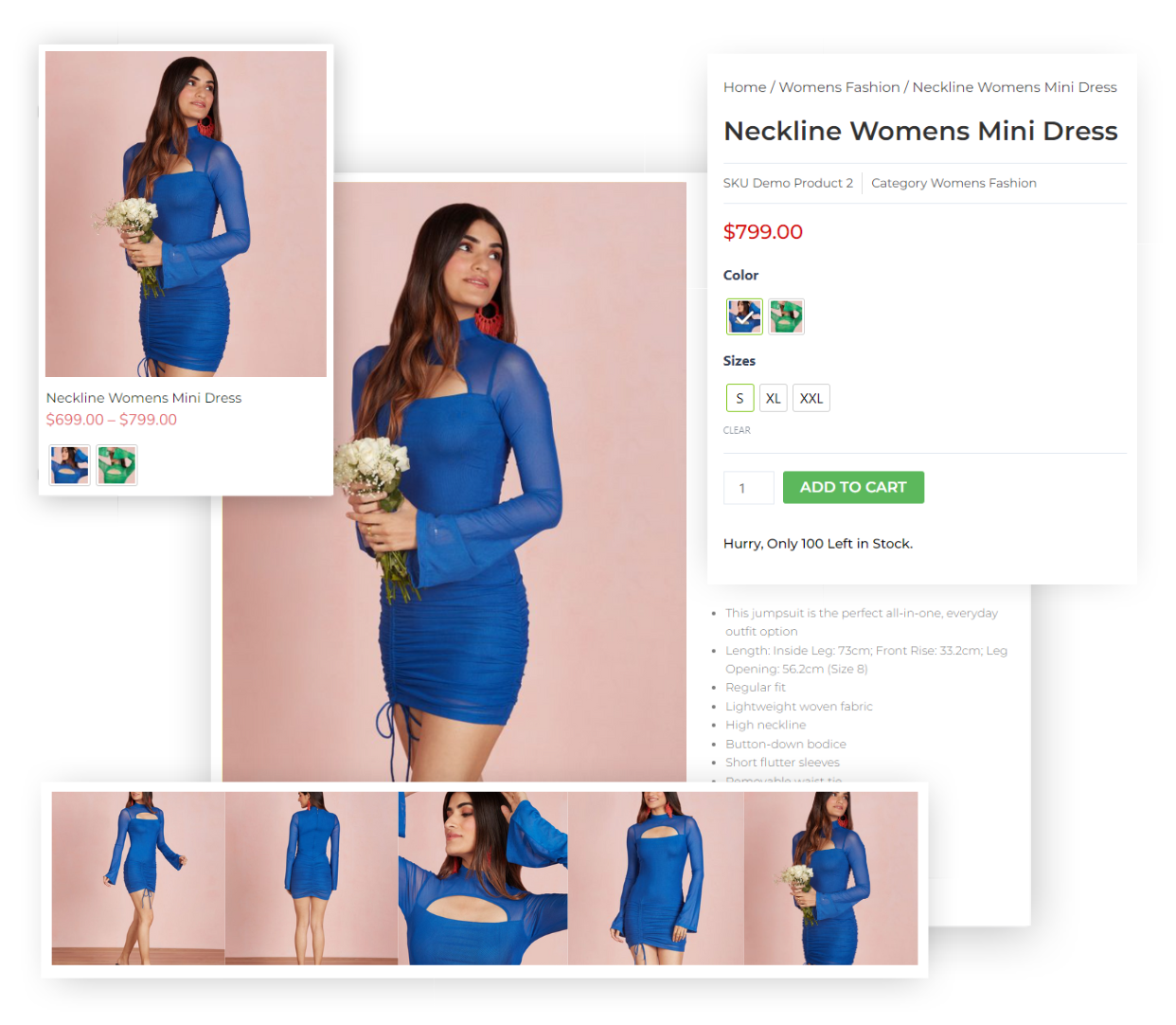 Add Variation Swatches.
Add Product Gallery Images.
Customize Archive Pages
Advanced IWPS Settings.
All InnovativeWP Perks Included.
Create Different Types of Variation Swatches and customize with Advanced settings.
Text Button Type Swatches
Radio Button Type Swatches
Swatches Customizing Options
Customize Variation Shapes – Add Circle/Square shapes to swatches.
Customize Swatches Dimensions – You can customize swatches dimensions for both global and separate level for every product.
Attribute names – Showcase variation attribute names.
Configurator – You can show additional variation fees as well. Check the Variation fees demo below.
Designs – Customize swatches overflow settings.
Customizing Options – Change selector colors and icons too.
Stock Info – Show / Manage stock with available products.
There are even more setting options than listed here as the plugin is updated constantly with customer requests.
Create Different Gallery Formats with IWPS. Here are some demo.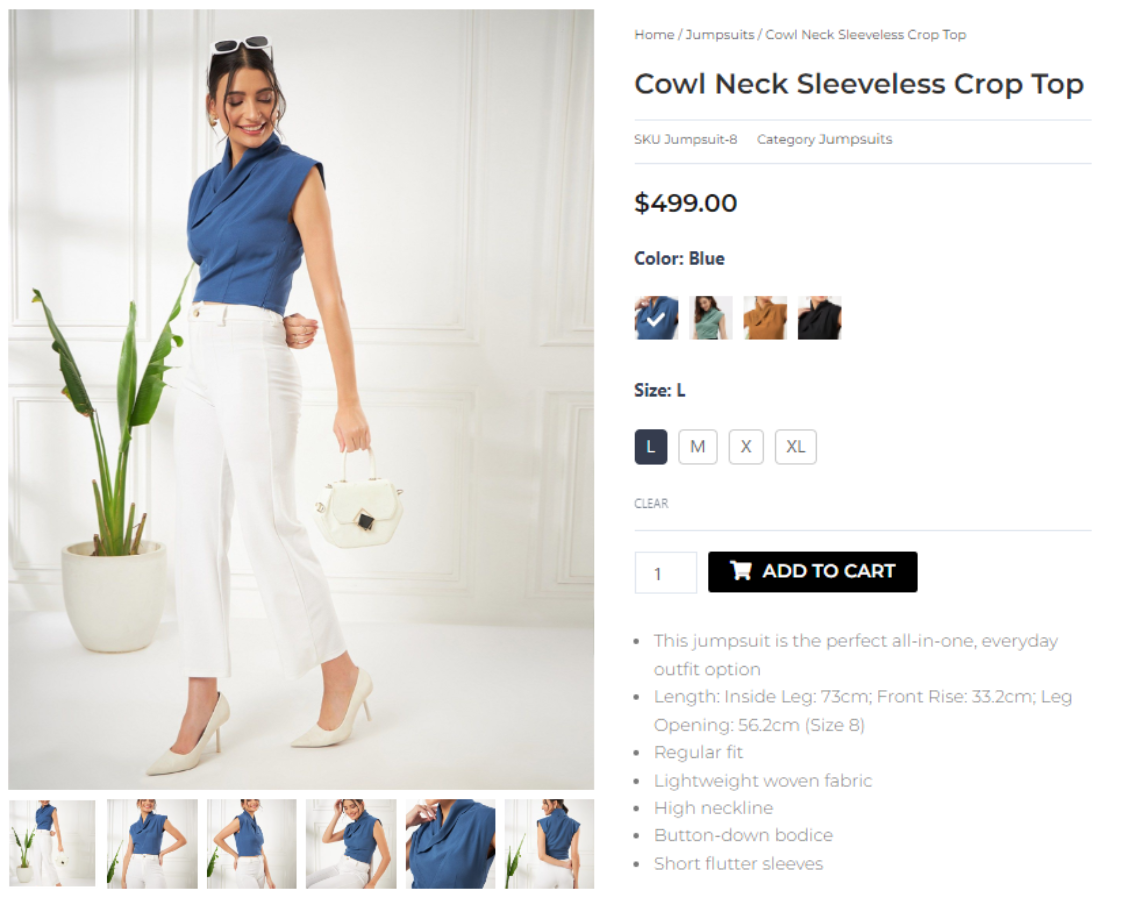 Gallery Format Horizontal Gallery 1
Gallery Format Horizontal Gallery 2
Gallery Format Vertical Gallery 1
Gallery Format Vertical Gallery 2
Multilingual Compatible Product Pages
You Can Use Plugins Like WPML, Loco Translate, and Google Translator As Your Choice. The Default Plugin Is Translated Into Major Languages Also.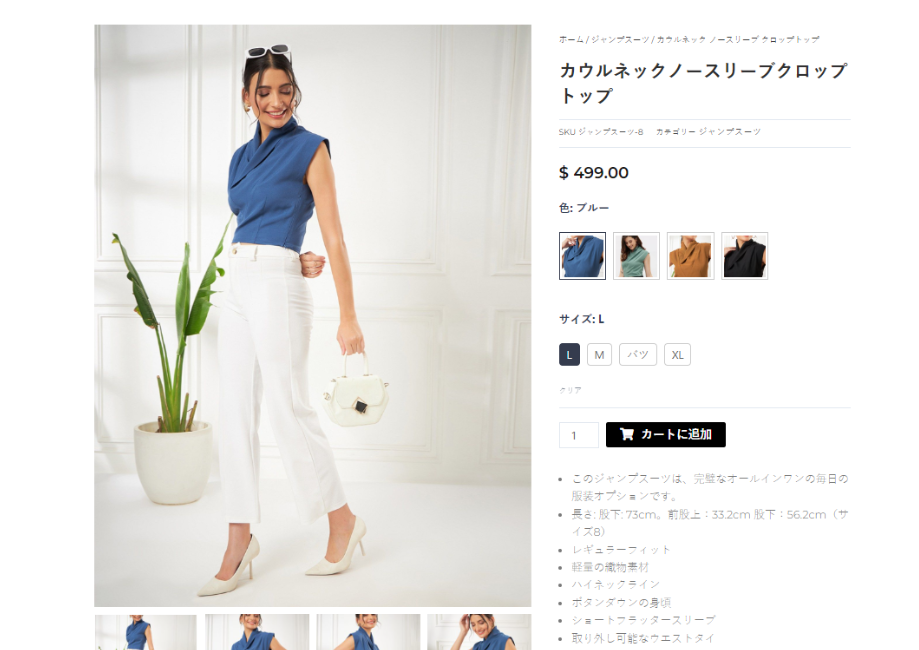 Japanese Translated Product Page
Russian Translated Product Page
Italian Translated Product Page
Product Page Translation – IWPS is compatible with translating every part related to the product page.
Third-Party plugins – You can use any third-party plugin listed in our compatibility list to work it out.
Feature Strings – All parts of the pages are translated including every attribute name, tooltip info, and much more.
Default Translation – IWPS is already translated into all major used languages.
Note – If you are facing any issues or want to contribute to translations then please contact our support team.
All InnovativeWP plugins comes with below perks
Do you know about InnovativeWP?
We operate since 2016, Our team members have 7+ years of experience in WordPress & WooCommerce Plugins.
We provide many perks with our plugins,
Regularly Updated with every WooCommerce & WordPress update.
Active Customer Support for all our plugins. Contact our support team anytime.
With our supportive plugin structure, our plugins work great with WooCommerce & WordPress.
InnovativeWP plugins are made to perform better. Our plugins are lightweight and fast to perform.
Our plugins are made with more safety and security-oriented coding approach.
InnovativeWP plugins are translated into major popular languages. Also, we are compatible with multilingual plugins.
We make our plugins developed with the most useful and easy-to-use features.
WooCommerce Archives / search Pages
Customize Default WooCommerce Archive / Search page and make it look more appealing to customers.
WooCommerce Archives Page
Swatches on archives – Showcase Variation Swatches on the Archives Page.
Control – Choose to show which specific swatches you want to show only. Example – You can show the colors of products and hide sizes for every product.
Apply Settings – You can apply all settings for archives control to all products both separately and globally.
Assign Control – You can choose what swatches should do on archives pages. You can set swatches to change product images when selected, you can set swatches to add products to the cart when selected, you can open products when selected, and much more.
Product Videos in Gallery
Add product videos in your gallery to make your product pages more informative.
Video Gallery – Add product videos in your WooCommerce Gallery with IWPS.
Video Hosting – Add product videos from any source like self-hosted, youtube, Vimeo, and much more.
Settings – Customize Video Player controls for users.
Designing – Change the look and layout of the video player and lightbox as per your requirement with IWPS.
Player Features – This allows users to control video player features like downloading, playback speed, volume, and much more.
IWPS affects page loading and site speed as little as possible.
IWPS product page speed with Active CDN & Caching Setup.
IWPS provides a well-coded plugin structure.
With Compatibility with stable and latest PHP versions and WordPress/WooCommerce.
It is updated and managed regularly for plugin updates and compatibility updates.
Results – Our demo product page with an active IWPS plugin scored B in the GTmetrix report with a 3.2 sec page loading speed. Without the IWPS plugin, the Same page scored B with a 3.1-sec page loading speed.
Note – It is our demo site and not hosted on our best server, Also it may show better or worse results on live as we do not host demo pages with active caching and CDN setup. You can contact our support team if you have concerns about page loading speed.
You can limit the number of variations appearing on the product page with IWPS.
Shop Page – It allows you to stop displaying variations after a fix amount of number.
If your product has a lot of variations that does not look good on your shop page, you can limit them.
Limiter Control – You can control what limiter actions. You can set limiter to reveal other product variations or open product.
IWPS is compatible showing variation swatches in different places other than product page like Quick View Tab.
IWPS is compatible with showing Variation Swatches & product galleries in the Quick View tab.
IWPS is compatible with the Third-Party theme and plugin's Quick View features.
Note – If you are using the Quick View feature from the third-party plugin, check out our compatibility list. If you don't find your plugin/theme then contact our support team.
Note – Quick View feature is not built in IWPS function for now, It is in our roadmap.
Some of the IWPS advanced features that you can use to make your store look more attractive.
IWPS Advanced features demo
Add Image Index – It allows to tag of images inside the gallery with index numbers.
Fixed Gallery – It is like a variation-based gallery. You can set up different images for both product image and gallery, For each variation. Use this if you want a configurator-like product page.
Note – You can add fees additional to the product price for variations separately if you wish to use it as a configurator.
IWPS is compatible with showing product data on different screen sizes. It is compatible with all below device sizes.
Some of the IWPS advanced features that you can use to make your store look more attractive.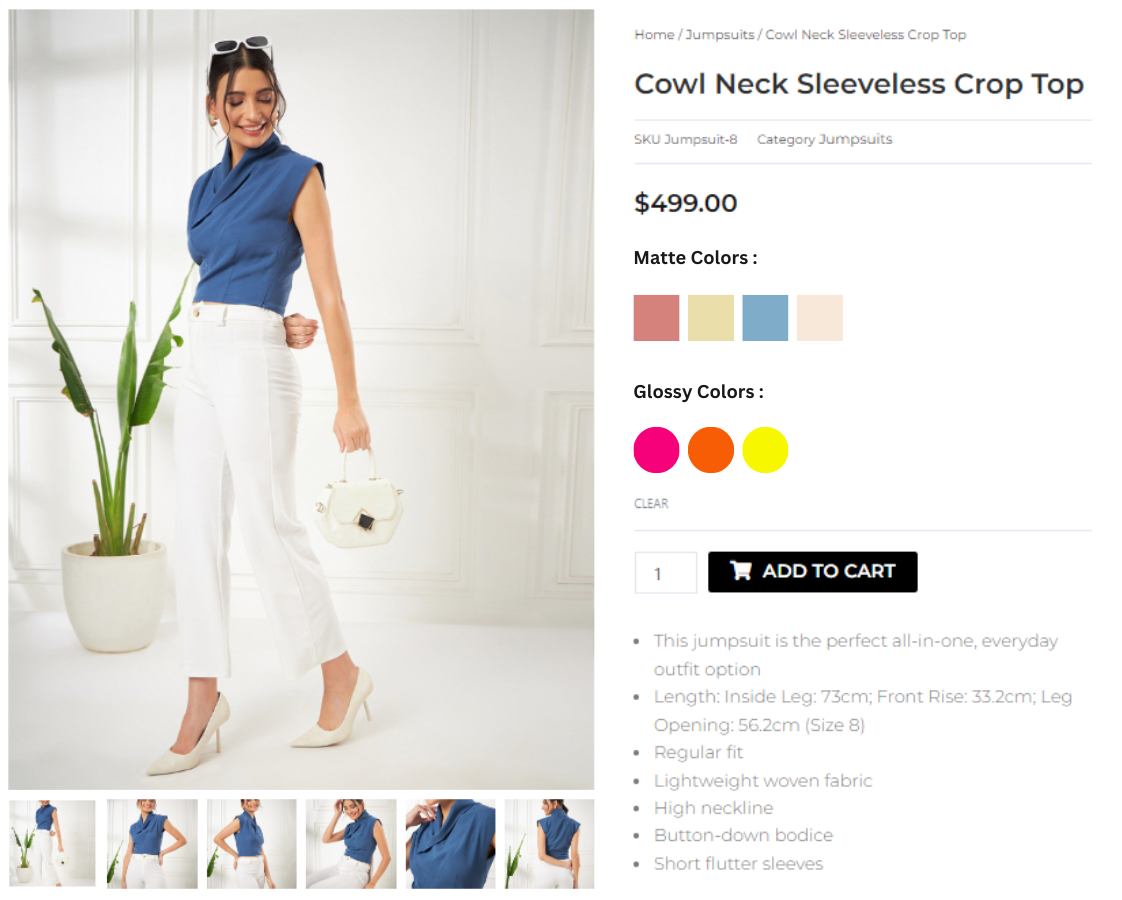 Variation Swatches Group – Divide variations from the same category into different groups based on their quality with IWPS.
Example – For color-related variation, you can make groups like matte colors, glossy colors, and subtle colors.
Add any type of swatches with groups.
Customize slider settings of WooCommerce product page with IWPS.
IWPS product page Sliding Carousel
Product Image Slider – You can customize the main image slider with IWPS. It allows the customization of animations and directions. speed and much more.
Product Gallery Slider – It allows you to customize the gallery slider. you can disable/enable as per need. you can make the gallery slide automatically and also you can make the gallery not move at all.
Customization & Controls – You can customize many setting options like transition speeds, and directions. aspect ratios, dimensions, and much more.
Device Compatibility – Gallery and main image sliding effect is compatible with all device sizes.
Navigation Controls – Customize navigation controls for both the gallery and main image.
Icons – Add/remove icons, bullets, and numbering for the gallery.
Add tooltips on variation swatches to show more product info on page with IWPS.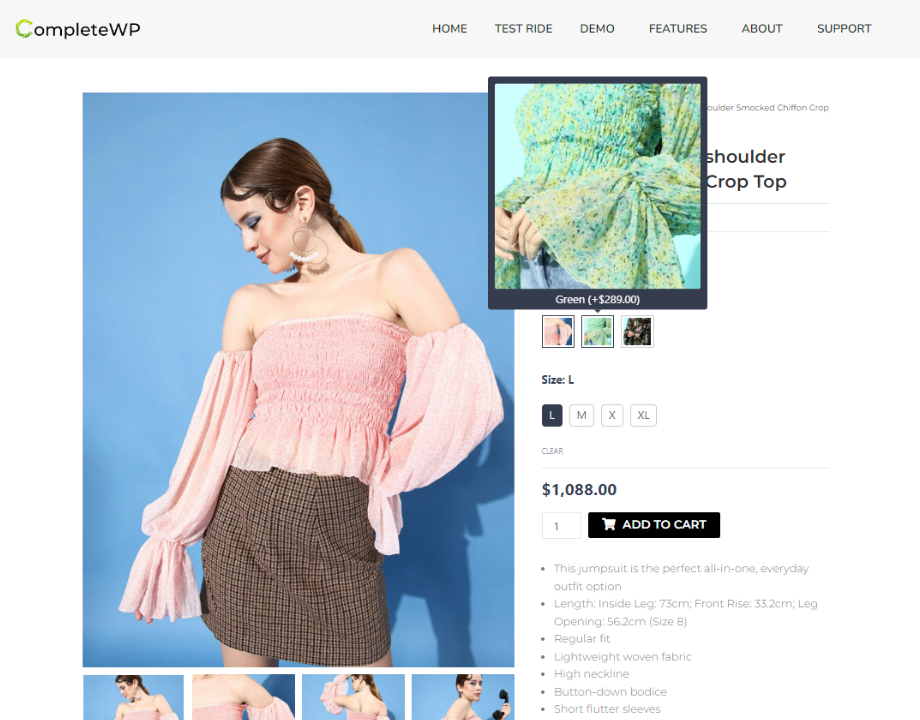 Tooltips – It allows you to show additional product info. You can show thumbnail images in a tooltip with IWPS as a preview.
Settings – You can set tooltip settings to both global and separate levels.
Variation Fee info can be shown in tooltips also.
Custom Data – You can add custom data in tooltips as well.
Product Availability & Stock Info
Showcase and manage product stock info with IWPS.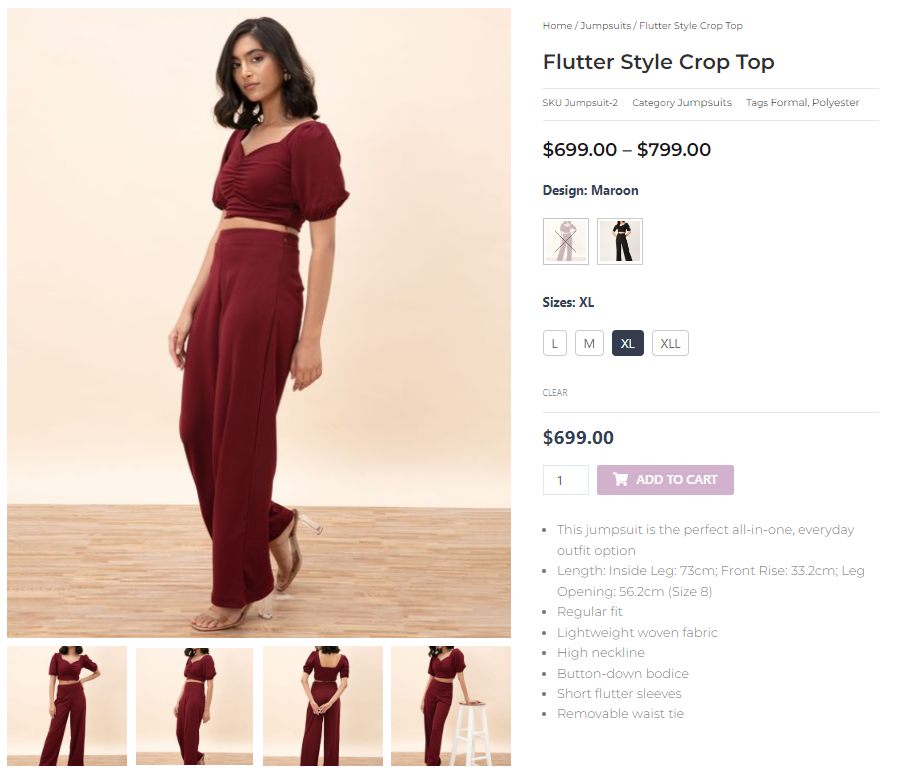 Out-of-stock products – Manage variation's stock information with IWPS.
Variation Swatches visibility – It only shows variations if the product is available or backorders are allowed on variation.
Archives page stock info – Out-of-stock variation swatches are also shown on the archives page with stock info.
Animations – IWPS adds small animations for out of stock products. You can add them to enhance your design.